Services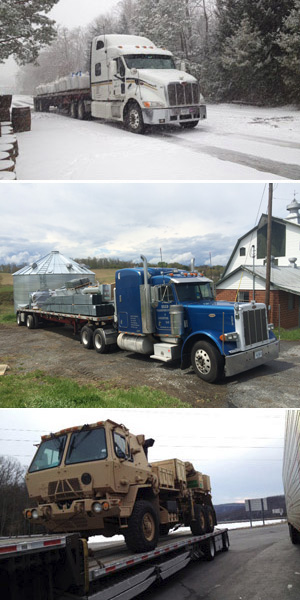 Today we provide transportation and logistic services to the lower 48 states as well as the Canadian provinces of Ontario, Quebec, and New Brunswick. In addition to flatbed and grain bin transportation, we also provide "power only" options for those customers who prefer to use their own trailers.
Most flatbed carriers are not equipped to handle the rigors of transporting grain bins. All of our trucks carry a complete complement of straps, chains, padding, and tarps. When possible, we utilize flatbed trailers with side kits to haul grain bins, affording an extra measure of protection for you valuable cargo. Our mission is to deliver your grain bin in the same condition as it was when it left the factory.
The best equipment is useless if the person using it doesn't know how to properly use it. All of our new drivers must successfully complete a series of grain bin loads with a seasoned veteran grain bin hauler before being allowed to haul a grain bin on their own.
Whether you need a grain bin hauled to your warehouse or directly to the farm, we can help! We want to help you excel in your field!
We have a passion to serve the American famer. Pete's (owner/operator of Read Trans.) Grandpa was a dairy farmer all of his life and used to let young Pete help work in the fields baling hay and such. This may be where he cultivated his great work ethic.